Current Transformers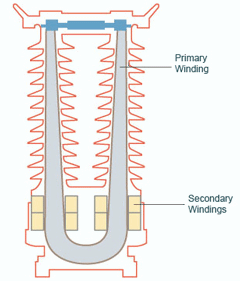 Current Transformers are primarily used to provide isolation between the main high voltage primary circuit and the secondary control and metering devices. This isolation is achieved by magnetically coupling the two circuits. The two main uses of Current Transformers are metering of current in a high voltage line and sensing faulty power conditions so as to trigger the relevant protection systems.

As such, they are strategic components of the High Voltage Grid. Failure, in any form, can be very damaging and very expensive.

Our Current Transformers are based on a U-shaped bushing design that incorporates HV DryShield® insulation on the primary circuit. Their rugged and simple conception provides top-notch metering and protection up to 550 kV and 5000A (8000A under specific conditions) without any risk of explosion or toxic leakage. Reliability and performance are best-in-class in all circumstances.
More specifically, the benefits for our customers are:
No risk of explosion - protect your people and equipment
Raise reliability level in the grid – reduces downtime risks
No risk of toxic leakage - environmentally friendly
Genuinely maintenance free - unmatched return of investment
Lighter than conventional technologies - more versatile
Metering accuracy class: 0.2, 0.2S, 0.5, 0.5S
Protection accuracy class: 5P, 10P, TPY (other classes on demand)
Up to 10 secondary windings
Up to 8000 A for specific conditions
The core advantage of HV DryShield® is to set and sustain a low and steady dielectric dissipation factor (tan d) and near nil partial discharge (PD) level. Studies have shown that the Partial Discharge actually self attenuates during operation. This explains the large technical margin our Current Transformers demonstrate and the unique track record of this technology in the field.

The technical and economical benefits when compared to conventional oil or SF6 insulated technologies can be qualitatively summarized as follows: